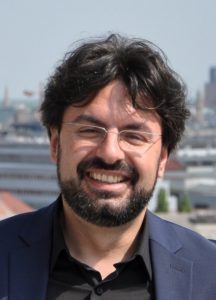 Organization/Department 
Associate Professor at the Center for Medical Physics and Biomedical Engineering, Medical University of Vienna 
Biography 
Francesco Moscato received the PhD in Industrial Bioengineering from the University of Calabria (Italy) in 2008. He was Visiting Scholar at Columbia University (New York USA) in 2014. Since 2015 he is Associate Professor at the Medical University of Vienna.
The research of Francesco Moscato focuses on two main areas: Medical Additive Manufacturing: investigation of how 3d-printing can improve surgical and interventional procedures, medical device prototyping, tissue engineering and medical education. Cardiovascular Bioengineering: research and development of methods and devices improve diagnostics and provide support to a range of cardiovascular pathologies.
He is author of 64 original articles and more than 30 invited talks (twice at a Gordon Research Conference). He was Secretary General (2013-17) and President (2018-19) of the International Society for Mechanical Circulatory Support. Francesco Moscato has been Principal Investigator/Site Coordinator in 7 international and national research grants (for a cumulative funding of about 4 Mio EUR). 
Title of Talk 
M3dRES: A 3D-Printing Infrastructure in a Large University Hospital: 4+ Years in Review. 
Abstract 
In this talk the past 4+ years of the M3dRES project will be reviewed. The project infrastructure, the initiated research activities and follow-up projects, the challenges and opportunities encountered along the way will be discussed in brief.